What is your current role?
I am the Head of Marketing for Levi's – Australia and New Zealand.
Describe a normal day in the life of Nicky Rowsell…
A typical day for me is coffee first (always!). I'm usually in the office and checking emails by 7.30am. There's always quite a few to get through. Many of these come from the music industry actually; whether it be festivals, promoters, managers, record companies. artists and everything in between ….. I try not to ever book myself in for more than 3 meetings a day; otherwise I struggle to get any work done. Outside of fielding emails and calls; I'm typically working on a few creative campaigns at any one time – be it creating / producing content / shoots, servicing our PR agencies and the media with imagery, copy and product information/stories, working on media plans or strategy, working across multiple events at any one time, monitoring our social media channels, dressing celebrities, influencers and musicians/artists…. A portion of my time is also spent working on global reporting back to the US, European or Asian Levi's teams and joining in on global or regional internal calls around seasonal product launches, direction, global events/campaigns and special brand moments in time. In between I'm often trouble shooting. I try to leave the office by around 6pm in order to get to the gym.
How did you get your start in your career – what is your story of how you got to where you are today?
It's a very long story as I've been in the fashion industry now for over 20 years; so I'll try and provide the abbreviated version! After finishing my Uni courses at RMIT I couldn't actually get a job or break in marketing (there was a recession at the time) so I became a personal trainer for around 6 + years (I'd also studied fitness/strength and conditioning coaching, nutrition). During this same time period, I also travelled to the UK/Europe/USA and goofed around teaching snowboarding in Aspen, Colorado for a season and was also a water sports instructor at Club Med in Phuket for a year. Bar / hospo work was also scattered throughout these formative years of finding my feet and experiencing life.
My first "real job" was at Network Ten as a producer on the Morning Show with Bert Newton. I also did some time there in Direct Sales…. During my time at Ten, I decided that I wanted to get into sports journalism and spent a lot of time trying to network to change departments. One day when I had managed to get a few hours with the then head of sport; I was told I wasn't pretty enough to be a TV journalist. I was advised that I needed blonde hair and bigger breasts and was shown several visual examples of who and what I needed to become aesthetically. Needless to say I went home crying that day and never ended up fulfilling that particular career goal. After leaving that gig and travelling some more and working in film / TV production for a bit, I ended up in my first fashion marketing role at Icon Clothing who at that time had Lee Jeans, Wrangler, Riders, Hard Yakka within their brand portfolio. I cut my teeth in that job and loved it, but quickly got bored with the lack of career progression and wanted more so went on to work at Globe as Marketing Manager. During that time skateboarding and streetwear was on fire and it was a great time to be working across brands such as Globe, Mossimo, M-One-11, Stussy, Mooks, Paul Frank, Split, Freshjive to name few. Producing the 900 Degrees parties at that time was my first foray into large scale event production – combining music and extreme sports. Looking after Tony Hawk and the Globe skate team when they were all in town every year for the event was also a highlight. I can honestly say that working at Globe during those 2-3 years taught me much of what I know now as a brand marketer in reaching the youth market. I then left Globe to go work at IMG Sports looking after their X Games properties / events and extreme sports athletes such as Taj Burrow, Mark Occhiliupo, Renton Millar and Torah Bright. I worked in commercial partnerships and athlete management during this time.
My next career step was a big one where I threw caution to the wind and set up my own creative / production / events and PR agency. I was self-employed for ten years and during this time worked mainly on fashion and youth brands. My client list consisted of Nike, Adidas Originals, CUB, Jeanswest, Dotti, Saba, Tropfest, Bolle Group, CK Jeanswer, Cadbury Schweppes, Pepe Jeans, Jay Jay's, Sony, Shock Records, Remote Control Records, Melbourne Spring Fashion Week, L'Oréal Melbourne Fashion Festival, Video Hits, L'Oréal/Redken, Calibre, Country Road, Sportsgirl, Pacific Brands/Brand Collective, Lane Crawford in Hong Kong, Myer (to name a few) and big end of town advertising agencies who wanted to reach the youth/urban market.
Social media at that time didn't exist and so it was all about underground parties and events, knowing who the influencers and taste makers were (before "influencers" existed)… "Guerrilla Marketing" as it was called back then was my unique niche and so I managed to carve out a great specialty business. During this same time I set up my own fashion label called Flamingo Sands which was a high end fashion swimwear brand. We sold to major departments stores and high-end fashion boutiques around the world. We achieved a lot in a small period of time. It was a crazy ride with lots of ups and downs. After having a fall out with my business partner and deciding to sell my share to some investors – I was offered a creative director role at Rip Curl looking after womenswear. After a period of 3 years there; we collectively managed to turn the women's business around – winning a few global awards along the way. Cut to 2013 when I joined Levi's in my current role. I've been at Levi's for 5 years now and so the journey continues ….
Where do you live and what is the current musical landscape like there at the moment?
I live in Melbourne. The landscape of music here is always exciting, diverse and ever changing. We're lucky that we live in such a great city that is vibrant and encourages creativity, live music and the arts. I am a huge Hip Hop / R&B fan and I really feel that the local scene is having a moment. The strength of Australian Hip Hop right now is exciting to see with artists like Genesis Owusu, Sampa The Great, Baker Boy, Kaiit, Ecca Vandal, Tkay Maidza, Remi, Kwame, Adrian Eagle, Phil Fresh, Briggs, Ziggy Ramo, Manu Crooks, Ivan Ooze, Arno Faraji, B Wise to name a few …. (I appreciate that this is a national list and not centric to just Melbourne), but Australian Hip Hop overall is killing it. It's great to see these artists speaking about issues that are of importance to both them personally and to the wider community right now Re. diversity, equality, empathy, acceptance.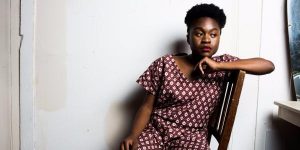 Sampa the Great
Have you got any advice for people wanting to start a career in a field similar to yours?
Be kind, show initiative, be curious, be humble, ask questions, love what you do, be a great listener, network, find your unique point of difference (or passion) and master it, try and give back to others and remember that the industry is small. (everyone I work with knows the "no dickhead policy" that I live by)
Do you feel that higher education is necessary to establish a career in marketing or the music industry?
Higher education is typically required to enter a professional career in a marketing or business field. It's a minimal requirement to even get an interview these days, so yeah – it's a critical first step to get your foot in the door and from there the life learning gained through experience never stops. I can't speak for the music industry and barriers of entry.
What is the best life advice you've ever received?
My dad always told me as a kid growing up that I could achieve whatever I wanted to achieve / or be whatever I wanted to be just as long as I put in the work. This has always stuck with me and I truly think gave me a strong work ethic that has continued throughout my life and career. I've also always quite liked the quote: "Luck is a matter of preparation meeting opportunity'
Have you had to overcome any challenges or adversity in your career, and if so how did you approach them?
I've definitely faced many challenges and setbacks throughout my career. Too many to list here that's for sure … Like many others; I've experienced sexism, bullying, sexual harassment, online abuse to name a few. Depending on the situation I've always tried to approach any issue I've faced with integrity, courage, honesty and a strong belief in myself, my ability and my own values. In response to adversity I've always just put my head down and worked harder than the next person. At the end of the day; results speak for themselves and no one can question that. I think facing adversity in anything throughout life is what helps us to learn and grow as an individual. It certainly doesn't feel like it at the time; but hindsight, time and self-reflection certainly helps to point out the lessons in most tough situations.
How do you unwind from all of your responsibilities?
Fitness and sport has always been a huge part of my life … if I'm not travelling or working back too late – in a perfect week, I try and fit in boxing 2-3 times a week, a few gym (strength and conditioning) workouts and at least 1-2 long walks where I can just listen to music or podcasts. Keeping fit keeps me on track both physically and mentally and allows for thinking time and alleviating stress. Staying healthy is super important to me. I also love to go deep and binge watch documentaries or get stuck into Netflix/Stan. Spending time at the beach and reading a good book is also a great way to just chill out and switch off from work pressures.
What is the most rewarding experience that you've been a part of during your career? (I'm sure there's a few – feel free to include more than one!)
A few of my most recent rewarding experiences have been during my time at Levi's … these are: building a DIY skatepark in Christchurch, NZ in 2015 for the community who didn't really have much left after the devastation caused by the earthquakes a few years prior. I flew out our US skateboarding team at the time who helped with the build. The project took about a year to get off the ground and we hit many hurdles along the way – so when it was finally done – it was a huge win. The other two big one's have been creating / launching the Levi's® Music Prize in 2017 and launching the Support Act Mental Health helpline and awareness campaign in 2018. These have all been personal passion projects of mine that I've been lucky enough to achieve and get off the ground through having the support of Levi's behind me. Levi's empowers us as employees to do what's right and this plays back to our brand values.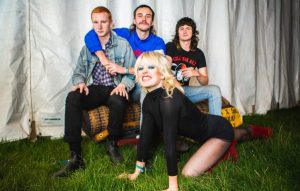 Amyl and the Sniffers – winners of the
Photo credit Jenn Five
What has been your proudest achievement so far?
I've had many, but it's funny that you don't truly appreciate them until you look back in the fullness of time and realise what an achievement they actually were… I won the Mercedes Benz Start Up Award for Best New Design Talent in 2005, my first solo shows at Australian Fashion Week in Sydney in 2005 and 2008, getting my fashion label into Selfridges in London which included a front window takeover in their flagship store, getting my product (fashion label) worn by Kate Moss and Giselle for the front cover of UK Vogue Magazine. These were all huge accomplishments for a label that was self-funded and pre-social media.
Who are your role models professionally?
I don't really have any professional role models to be honest. I have a handful of close friends (confidants) who I use as my sounding board that I call upon for advice, support and feedback on various topics / problems when required. I value these friendships and their honesty greatly.
What does 2019 hold for you? Any exciting things that you can tell us about?
2019 is going to be a year of personal growth and learning new things. I've just started learning the drums again after a ten year hiatus …. Levi's wise I'm always working on at least one major passion project per year. If all things fall into place; around mid-year I'm hoping to launch The Levi's Lounge – a creative hub and multi purpose events / performance space in Melbourne. So stay tuned!
Top 3 artist you're currently listening to?
That's super tough to edit down to just 3 as I'm constantly listening to new music…. I'm currently enjoying new music from Parcels, Mansionair, Foals, Jungle, Noname, Slum Sociable, Leikeli47, Thelma Plum, Denzel Curry, Bene, Joji, Genesis Owusu, Jorja Smith, Stella Donnelly to name a few.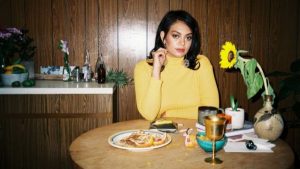 Thelma Plum
What's your go-to karaoke song?
"Don't go Chasing Waterfalls" – TLC, Nenah Cherry's "Buffalo Stance', Dolly Parton's – "Jolene" or "Raspberry Beret" – Prince