Niqui, you're an illustrator and designer and responsible for the amazing BigSound design and branding! Tell us your story! Where did you grow up and where do you now call home?
Hey— yeah! I'm a Brisbane girl who grew up in Logan and am the daughter of a Filipino mum and a Hungarian dad. I feel like my mum and dad both travelled oceans to live in Australia. Meanwhile, I've just travelled half an hour up the freeway.
For those who are unfamiliar, tell us a bit about Bigfish, what kind of work do you do, and who do you work with?
Bigfish is a web and content studio. At the moment there are about 15 of us running around working on branding, websites, illustration, animation, video and social. I've been there for around four and a half years now and it feels like a family which is a bit nice!
Tell us about your role, what does your day-to-day entail?
I am a graphic designer and illustrator but my role switches up depending on the project. For example: Today I did some website designs and created style-frames for a motion-graphics video, tomorrow I'll be creating a suite of illustrations for a new brand, and last week I was working on a printed program and merch. But I always like to start my day with a piece of toast. And a cup of tea.
How did you get your start in the industry, how did you get to where you are today?
Before Bigfish I was studying and freelancing doing club posters and websites. I think mostly I got those jobs from word-of-mouth. I studied graphic design at uni and at the end of my degree we had a graduate exhibition which a few people from Bigfish went to.
I didn't think anything would come out of the grad show and I wasn't feeling very confident about myself either, so after uni I didn't attempt to contact studios. A month later, Sheldon sent me a very casual email asking if I was interested in a job, to which I responded in the most painfully formal way.
I know I'm not a big deal or anything but I feel pretty lucky to be where I am.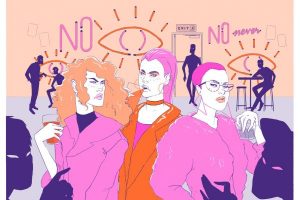 What issues do you feel are facing your industry at the moment and how do you think they could be changed/made better?
I think getting paid fairly and realising what you're worth is still an issue in our industry.
Representing yourself is hard enough – then you need to actively look at your work and reflect on how much it's worth. I know so many talented artists, friends of mine, who undervalue what they create. We constantly build each other up but then find it hard to see the worth in our own creative output.
The rise of stock sites and templates also make it difficult. It's a dumb analogy but buying a suit off-the-rack is not the same as getting one tailor made. People need to understand that the work we do is bespoke and what you are paying for is labor plus the exclusive rights to that creative work. The reason stock sites are cheaper is because the creators are able to sell that same work to multiple people and earn their money that way. But if you're only selling one unit, it's a harder slog.
I don't know what the solution is but transparency about pay and talking to your peers about what's owed feels like a step in the right direction.
Have you had to overcome any challenges or adversity in your career, and if so, how did you approach them?
I'm inherently a very introverted, very private person — I don't generally thrive in new social settings, I find networking fairly uncomfortable and large groups intimidating. There are days where I'm more of a people-person but generally I'd prefer to quietly stand by the wall. Even with social media. For me, staying active and updating often feels uncomfortable.
I've had to push myself to operate in uncomfortable spaces, to be more assertive, to speak-up and stick up for ideas I really believe in. Often my inclination is to stay quiet, but as uneasy as I sometimes feel I've learnt that nothing happens for you when you stay quiet.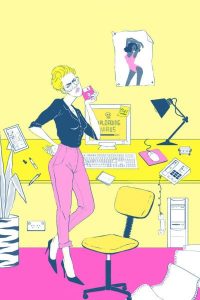 Do you feel that higher education is necessary to work in your industry?
Education is tricky. I got my industry start from someone at Bigfish seeing my portfolio at my university graduate exhibition. However, I also feel like I had to jump through so many unnecessary (and expensive) hoops for that degree. Ultimately, my final portfolio was mostly work I had done outside of the university system.
While our education system is evolving, it's still so stringent in many ways. There seems to be this really rigid idea of how to teach and how to learn. If you don't fit into that style of learning then you're at an institutional disadvantage, but it's hardly an indication of talent or intelligence.
As well, higher education is so dependent on access: If you didn't finish high school, if you can't afford the fees and materials, if transportation is an issue, etc., then you're probably not going to thrive in a uni environment. I have seen so many talented, sought-after people that never went to university and were more-or-less self-taught.
I'm not saying that degrees are worthless but higher education alone is not enough to guarantee you a job at the end. I think if you love your craft then you're more likely to have that drive to keep bettering and educating yourself in the form that suits you (outside of an institution), making a bomb-ass portfolio and getting work.
Any advice for people wanting to work in your field?
Be prolific— Work your arse off to build a body of work, try new approaches, refine your style and practise.
Trust your instincts— Have confidence in your work (Some self-doubt is necessary but too much is a creative killer) and if something on a project doesn't feel right, it probably isn't.
Make connections— Don't be afraid to put your work out into the world, collaborate with other creative people and be nice.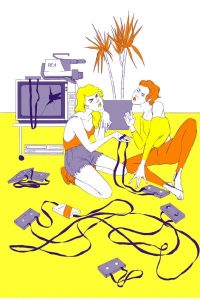 Does the reality of your job match up to what you thought it would be? What are the differences if they exist?
It's hard to say? I know that I was super motivated to be an graphic designer/illustrator from 16 but I'm not totally sure what my expectations were then. I've never had a moment where I felt deflated by the reality — I've always anticipated there will be highly creative days and days where my tasks are mostly mundane, like resizing images or something.